Carol O. McGruder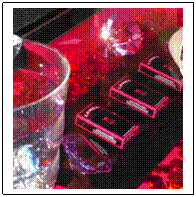 Dressed to the nines…Love Potion # 9…Camel No. 9 ???, The number nine has always had a certain mystique to it. Certain numbers do, and, if there was ever any doubt about it, tobacco industry giant RJReynolds' launch of its new cigarette--Camel No. 9--should put such doubts to rest. Anyone who knows anything about the tobacco industry knows that they leave nothing to chance. Rest assured that when they target any segment of the population with a new product, they spend the time and the dollars in the planning and the research to ensure that they "penetrate" the demographic in their sites. And penetrate they will with the "spare no expense" launch of the newest, hottest sexiest cigarette targeting America's, and no doubt the rest of the world's young women.
Costume ring given out at
San Francisco RJReynolds' events


RJReynolds has rolled out a massive Camel No. #9 marketing blitz of glossy ads in magazines like Glamour, Vogue, and Rolling Stone. They have created a line of sexy black dresses, stiletto heels, and Barbie Doll colored wristbands and even, cell phone covers as collateral merchandise for their hot new brand. To make sure that every young woman is introduced to their new "Light and Luscious" brand, RJReynolds is hosting "Girls Nights Out" at local bars and nightclubs across the country. These events include free manicures, free make-up, hairstyling and (where it isn't illegal) FREE packs of cigarettes.
Not since the 1968 Virginia Slims' "You've Come Along Way Baby" campaign have we seen such a coordinated effort to lure women into the deadly habit of cigarette smoking. That marketing slogan of long ago, accompanied by its blitz of advertisements and its unprecedented sponsorship of women's cultural and tennis events, catapulted Virginia Slims' market share by over 1000%.
Breast cancer awareness is everywhere in the news, but few people realize that lung cancer kills almost twice as many women. In 2006, close to 71,000 women succumbed to lung cancer contrasted with the 41,000 who died from breast cancer. Many dollars are raised and spent in researching the causes of breast cancer, but we know what causes the vast majority of lung cancer cases. It is sold in a little box and marketed worldwide. Tobacco industry marketing gurus, always claim that their campaigns only target existing smokers and that they are simply trying to get a bigger piece of the pie of the 20 million women who currently smoke. But that doesn't change the fact that 80 percent of new smokers are under the age of 18, and one-third of teenagers now smoking will eventually die from it.

Free cigarettes!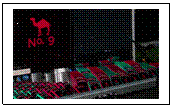 Camel No. 9 should really be called "Cancer, Cancer No.9" as Big Tobacco keeps that cancer moving, moving down the line. Now that line seeks to capture a whole new generation of young women. A generation, who like their mothers are being asked to trade in their lives for a pack of smokes but this time around they are in a sleek sexy black box with hot pink trim. We really haven't come such a long way have we?

Carol McGruder, (cmcgruder@usa.net) is the Project Director of Communities Under Siege (C.U.S.)/United Against The Globalization of Big Tobacco